Drive-Thru Holiday Lights Around Tampa Bay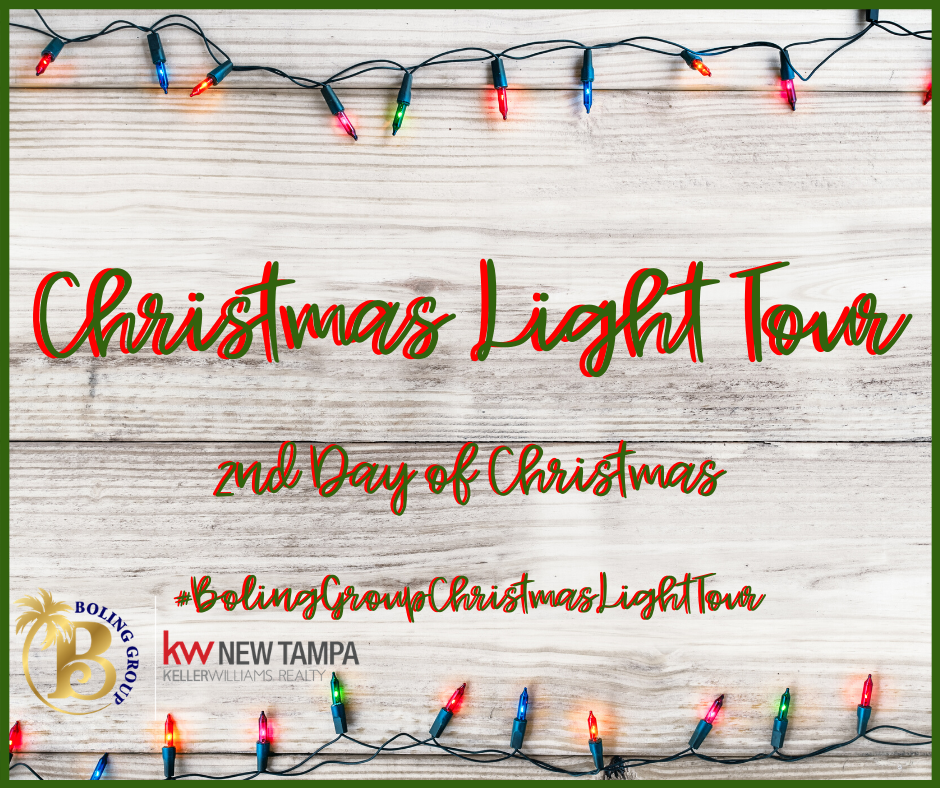 To be entered in to our drawing, share a photo of you on the Christmas Light Tour, use #BolingGroupChristmasLightTour and #25DaysOfHoHoHos, and tag our Facebook Page when you post on Facebook.
Chick-fil-A: 6299 W Waters Ave Tampa: November 18 thru December 21 from Monday-Saturday in the eveving. Cost: FREE
Celebration of Lights in Spring Hill: 11919 Alric Pottberg Rd Shady Hills, FL: Friday & Saturday from 6pm – 10pm. Cost: $10 per car (Cash & Credit cards are accepted at the gate)
Tampa Bay's Wonderland of Lights: Hillsborough County Fairgrounds (215 Sydney Washer Road Dover, FL):  November 28 thru January 4, 2020 Sunday, Wednesday, and Thursday from 6p – 9m and Friday & Saturdays from 6p to 10p. Cost: $20-$75 per vehicle. See their website for specific dates on their calendar.
Lights of Lake Park: 102nd Ave & 109 Ave N Seminole, FL: Dec 1 thru Dec 31 daily from 6p – 10p. Cost: Free (Donations are accepted at the Suncoast Hospice Cart located along the route and 100% of the money donated goes to support their community activities.
Christmas Light Maze & Market: Enchant: The Great Search – The World's Largest Maze: November 22 thru December 29 at Tropicana Field in St Petersburg. Click here to purchase tickets ahead of time.
Christmas at Gaylord Palms: 6000 West Osceola Parkway Kissimmee, FL: November 25 thru January 5, 2020: The theme this year is "The Great Search", where a mischievious elf named Eddie accidentally sets Santa's reindeer free. Ticket prices vary for select nights and times so click here to search for your tickets now.
Winter Village at Curtis Hixon Park: Click here for all information and a map of the event: November 22 thru January 5, 2020.
Christmas in the Wild at ZooTampa: 1101 W Sligh Ave Tampa: Select Nights through December 23. Click here to view dates and to purchase tickets.
Symphony in Lights: The Shops at Wiregrass. Click here for the full schedule.
Holiday Lights in Central Park: The park is filled with more than 2 Million LED lights, holiday displays, music, and a Ferris wheel and carousel for $5 per ride. Enjoy the lights for free, purchase holiday treats is available. Check out the Facebook event for more information.
Ready to decorate your new home for the holidays?
Find your new home and be ready to decorate your home for the holidays in the new decade! 2020 is right around the corner!